→ BOOKS → E-BOOKS → TRADING SYSTEMS → AMIBROKER CODING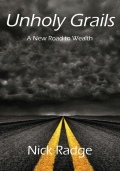 UNHOLY GRAILS - A NEW ROAD TO WEALTH
If you run a self-managed super fund, 401K or are looking to take charge of your own investments, the road to success is closer than you think. Unholy Grails unlocks a little-known concept often shunned by the big end of town – to their detriment and our benefit. Required reading for any investor battered during the GFC.
"How I wish I had this book 6 years ago when I started my trading journey!" - Henjo J

$39.95
Personally Signed Copy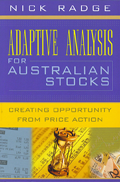 ADAPTIVE ANALYSIS FOR AUSTRALIAN STOCKS
Ideal for traders wanting to learn the intracacies of applying technical analysis to real world trading. Radge explains how to use price action to make the most of your winning trades and, importantly, to quickly recognise a losing trade and exit your position. He provides new insight into common market theory, including Elliott wave, micro patterns, risk management and exit strategies.
"I've spent most of the week reading and rereading your book "Adaptive Analysis". I've read quite a few books on trading and I think that your book is the best book that I've ever read on the subject." - Alan T.

US$8.99
Now Only Available on Kindle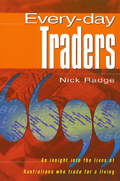 EVERY-DAY TRADERS
We often hear about the successes of traders from around the world but rarely get an insight into home-grown traders. Radge explores the lives of Australian traders who are not known in the public domain yet make their living from the markets. This is more than just a collection of good stories – its aim is to get answers that can be applied to your own trading.
"The interviews are quite in depth and give the reader a good understanding of what it's like as a trader." - Alan
OUT OF STOCK
No longer available