The GFC Made People Sick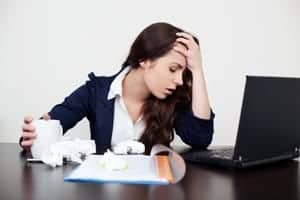 Published January 16th, 2020
REPORT CONFIRMS YOUR GUT REACTION
You can ignore the health warnings but you do so at your peril. The GFC made people sick. You see, a review of 122 health studies published between January 2009 and July 2015 found "the 2008 financial crisis had negative effects on mental health, including suicide, and to a varying extent on some non-communicable and communicable diseases".
If you didn't suffer directly you probably know someone who did. The major reason why people suffered? Most investors did not play a good defense. Why?
Because they stayed fully invested throughout the entire crisis. They sat frozen, watching the value of their holdings decline. Lower, lower, lower. According to CoreData 87% of self-funded retirees lost wealth after the global financial crisis. Almost half lost more than $100,000. And now we know that not only did investors lose wealth but the crisis significantly impacted their health.
Personal finances are rated as the top cause of stress for 49% of Australians.
With this new-found knowledge how can we improve both our finances and our health going forward?
Imagine if you were ready for a crisis, that you had knowledge and a plan ready to deal with another GFC or global meltdown.
You CAN be prepared.
[1] Source: http://journals.sagepub.com/doi/pdf/10.1177/0020731416637160 Effects of the Global Financial Crisis on Health in High-Income Oecd Countries, A Narrative Review by Marina Karanikolos, Pia Heino, Martin McKee, David Stuckler, Helena Legido-Quigley. First Published April 12, 2016
[1] Source: Core Data "Self Funded Retirees Survey 2009" www.coredata.com.au
[1] Source: Australian Psychological Society Stress and wellbeing in Australia survey 2015 http://www.psychology.org.au/Assets/Files/PW15-SR.pdf
At The Chartist we arm you with that knowledge. Each weeknight you can access analysis of global markets, the Australian stock market and top ASX and Bellwether US stocks. Each review contains written analysis, a short video explanation of the chart patterns and we highlight trading opportunities. Managing your trades, arming yourself with information and playing a good defense will be your savior.
LEARN HOW TO PLAY A GOOD DEFENSE…TO IMPROVE YOUR WEALTH AND YOUR HEALTH!
The ASX and Global Chart Research is available as part of the Chartist Pro membership