Is Gold Really That Good?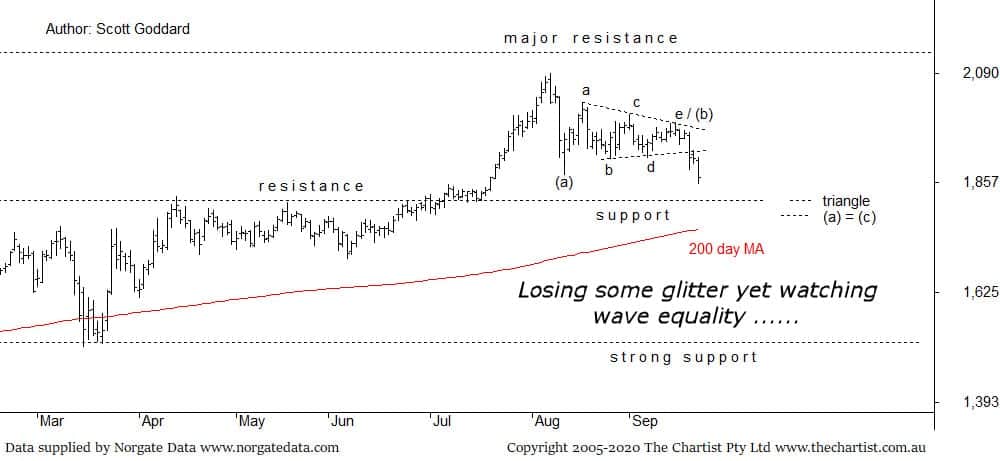 Published August 20th, 2021
Gold! We've had a several queries about Gold in the last few weeks. Scott Goddard regularly reviews Gold in the Global Chart Research section for members. Yesterday (24th Sept) Scott posted his latest Gold review. You can read and watch a short video of Scott's review here.
BOTTOM LINE
24 September 2020:
Daily Trend: Down
Weekly Trend: Down
Monthly Trend: Up
Support Levels:  $1815 / $1696
Resistance Levels:  $2127 (Dec 2020 contract)
GOLD TECHNICAL DISCUSSION
Reasons to be bullish:
→ upside price action solid off the August 2018 lows
→ bullish larger bowl / cup and handle pattern continues to evolve bigger picture on the monthly chart
→ geopolitical risks / Covid-19 economic impact potentially bullish for gold
→ immediate corrective (a)-(b)-(c) still looking for slightly lower
In our last review we were seeing the potential for the triangle pattern to break to the upside. Yet the price trigger we were looking for failed to transpire, and the rest is now history. So with the pattern triggering to the downside in-between reviews, our best interpretation of the immediate trend is that price is now in corrective mode to the downside. With an (a)-(b)-(c) move south now in motion.
Symmetrical Triangle
Just a little more education on the symmetrical triangle as seen on our chart tonight. When they have five internal swings (a-b-c-d-e) they are classified as Elliott triangles. With the break out trigger, in this case to the downside, coming into play below the wave-d low circa $1911.70. The measured move post such a trigger occurring is $1795.00.
With corrective (a)-(b)-(c) moves we also keep a very close eye on equality targets. As they generally bring to the table demand when the move is to the downside like it is here. In this case wave equality measures in at $1768.80. Which is just above where dynamic support in the form of the 200 day MA presently resides. It is also where historical support / resistance sits. Basis all this there are numerous confluences in place between $1700 and $1800 to suggest that buyers will be out in force if and when price decides to head into this zone. So for now Gold continues to look robust bigger picture, yet it is critical that $1700 holds strong from here.
GOLD TRADING STRATEGY
You need to be a member of The Chartist to view the Gold trading strategy recommendation (as it is considered General Advice). You can join The Chartist free trial membership here.