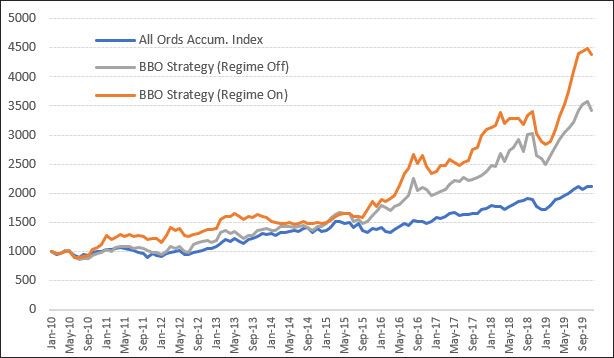 It's been 8-years since Unholy Grails was released and 10-years since I first started the project.
One of the most popular strategies was the Bollinger Band Breakout (BBO) strategy.
Back in the late 90's I took the basics of the strategy from Ken Fitschen's well-known Aberration Trading System. Aberration has been named "One of the Top 10 Trading Systems of All Time" by Futures Truth and remains a popular trading strategy for commodity trend following.
After trading the strategy with futures until 2001 I redesigned it to trade long-only equities. I continue to trade a 'tricked up' version today to manage our retirement account.
The rules of the BBO strategy are straightforward:
Set the upper Bollinger Band to 3-standard deviations and the lower band to 1-standard deviation.

Set the moving average period to 100-days.

When the market closes above the upper band, buy on the following days open.

When price closes below the lower band, exit the position on the next days open.

We'll allocate 5% of capital to each position to create a portfolio of 20 positions. As usual commissions have been included.
The following chart shows the equity growth of the strategy since 2010 through today vs Buy & Hold.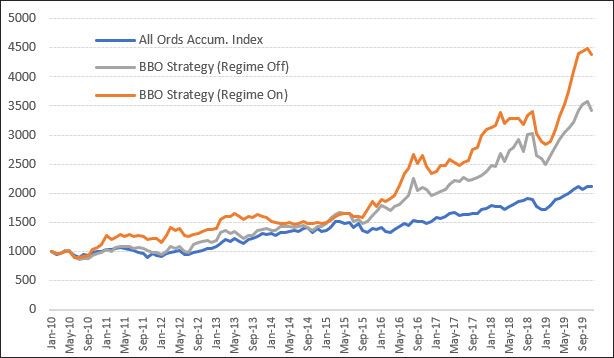 As per the book, and as per my own trading, I have also plotted the equity growth of the same system using a Regime Filter.
A Regime Filter will only allow new positions to be entered when the broader market trend is up. If the broader market trend is down, we do not take on new positions.
The Regime Filter hasn't added a great deal of benefit in the last 10-years, but as we saw in 2008, it certainly did come in handy by cutting the drawdown substantially.
So there you have it. 10-years of out of sample data which continues to show solid returns. Perfect for an active investor wanting to take control using a robust approach.