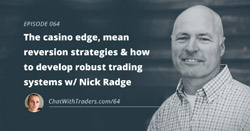 Recently Nick Radge had the opportunity to chat with Aaron Fifield from the Chat With Traders podcast. This is the second time Nick has appeared on this podcast and you can listen to the first interview here.
The new podcast is titled 'The Casino Edge, Mean Reversion & How to Develop Robust Trading Systems with Nick Radge'. That's a lot to cover in one podcast but Aaron and Nick managed to do it.
Listen to the podcast here:
If this interview resonates with you and you would like to see some of Nick's trading strategies then take a 2-week trial for $19.

Register for the Mean Reversion eBook Nick refers to in this podcast here.